KHARKOV CENTER FOR GENDER STUDIES

Kharkov

The Center was registered by the Ispolkom Sovet of Working Peoples of Kharkov region in February 21, 1994. Its registration number is 119.
Address: P.O. box 244, Kharkov, 310022, Ukraine.
Contact person: Zaven Babloian, coordinator;
tel./fax: 38 (0572) 14-09-29;
e-mail: gender@kgc.kharkov.ua
web-site: http://www.gender.univer.kharkov.ua


Kharkov Center for Gender Studies - the first Ukrainian University Women's Studies Program
Officially, our Center was formed at the beginning of 1994. Now we are working on two levels: as a non-governmental organization and as a University program, the first program on women's studies in the Ukraine. The women's studies professors - participants of this program - have worked out a number of teaching courses (on gender theory and feminist philosophy; sociology of gender; gender issues in political sciences, anthropology and economics, etc.) which, beginning with the spring semester in 1995, were delivered to students and post-graduate students of Kharkov State University and some other colleges and universities.
An important event in the development of Gender Studies in the Ukraine was the First Ukrainian Summer School on Women's Studies that was organized by our Center in May, 1997 in Foros (Crimea). This School was called "Women's Studies: Feminist Methodology in Social Sciences", and was organized in the framework of the Program of Summer Universities of the Open Society Institute (OSI NESP). Now we are preparing the Second Ukrainian Summer School on Women's Studies.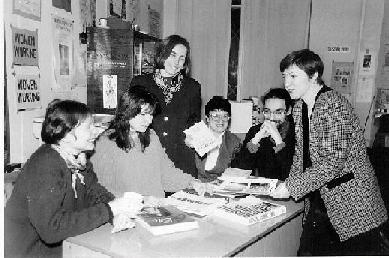 From left to right: Irina Jerebkina, Svetlana Pcelina,
Tatiana Jurjenko, Marina Shapovalenko, Zaven Bablojan,
Marina Prokopenko. Seminar, 1996.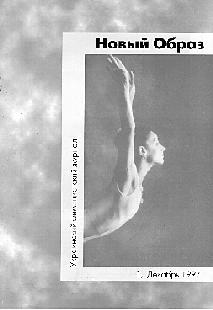 The direction of activity of the Center is also research work, closely connected to our educational and informational activity. In the field of research, the Center is oriented towards making complex interdisciplinary analyses of various aspects of gender issues in Ukraine and abroad. In 1996 the members of the Center prepared a textbook for students entitled "Theory and History of Feminism" - the first publication of this type in Ukraine and NIS. The publishing program F-Press, which publishes various materials concerning feminist theory and the women's movement, plays an important role in the Center's activities. Now we are preparing the second part of the textbook - an anthology of modern Western works on gender theory. In addition, at the beginning of 1998, supported by the Gender Studies Program at the Central European University, the first issue of a "Gender Studies" journal will be published. In the near future we are planning to publish translations of classical and modern Western feminist works on the Internet. And our new publishing project is the magazine «New Image».