WOMEN'S CHRISTIAN-DEMOCRATIC MOVEMENT OF BELARUS (WCDM)

Minsk


Sprang up in 1991 as an independent non-profit organization. The Organization was registered by the Ministry of Justice of the Repablic Belarus on January 27, 1991. Its registration number is 477/0151.
Address: Apt. 5, 6 Raduzhnaya Street, Minsk-city, 220020, Belarus.
Contact persons: Ludmila Petina, President;
Tel./ fax: 37 (5172) 50-31-68;
Anna Tochilina, Coordinator for international relations;
telephone: 37 (5172) 37-43-14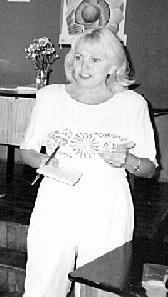 AIMS of WCDM:
The protection of women's rights. The democratization of society.
MISSION of WCDM:
make a contribution to the creation of the democratic society of Belarus by taking part in the creation of an independent women's movement and defending the needs of women's participation in the decision making process;
resist all gender discrimination in social, cultural and political life.

What is to be done for the realisation of these aims?
WCDM takes an active part in the social, cultural, and political life in Belarus.
The Organization performed several actions aimed at the attraction of attention to women's conditions in Belarus.

WCDM has a variety of programs:
educational seminars, conferences, scientific research, work with the representatives of mass media, setting up of the information center, cooperation with women's non-government organization of Belarus and abroad.
The organization of the Women's Educational Consulting Center and elaboration of training courses for women's integration into political life and a market economy.
Short history of WCDM
1992 the WCDM was the organizer of the women's enterprise "Pyaluostar", a business incubator for the realization of women's initiatives;
made the actions of charity for rural women;
set up tradition in the memory of bylorussian repressed writer L. Gueniush.
In April 1994 WCDM organized and performed the international conference "Woman - Family Society", in which took part about 200 bylorussian women and the representatives from 20 countries.
Several sociological analyses on the problem of the state of women and family were made and the conception of family politics was also elaborated.
In 1996 WCDM organized and performed the round table "Integration and contact: the international women's movement and NGO of Belarus".
In 1996-97 WCDM organized the educational seminars for leaders of women's NGOs - "Beijing Strategies - Bylorussian Perspectives", "Women and Poverty" 'Women and Violence",
'Women and Mass Media", "Women and Decision Making". 'Women and Human Rights".

Representatives of WCDM took part in:
the 2nd Women's Forum in Dubna (1992 Russia)
the work of the section "Equality of Women and Men" in the European Council (November 1993);
the Global meeting of women politicians on Taiwan in February 1994;
Forum of NGOs (Beijing, China).
the session of the lst European Women's Synod (July 1996, Austria)

The structure of the WCDM
WCDM was founded from different regional organizations of Belarus. The Executive Organ of the WCDM is the Council, comprising 19 members. WCDM employs no paid employees. All the work is done voluntaryily.
Finance
Voluntary contributions, fees and grants from foundations.
Ludmila Petina