WOMEN'S CLUB "PREOBRAZHENIE"


Moscow


The Club is reregistered as social association by the Moscow Justice Administration in January 20, 1992 under registration number 810.
Address: Women's club, P.O.box 78, Moscow, 121069.
Contact persons: Diana Medman, President of the Club,
phone: 7 (095) 120-12-30, fax: 7 (095) 120-24-30;
Natalia Guseva, Vice-President of the Club,
phone/fax: 7(095) 264-85-32.
E-mail: medman@online.ru

Sitting: Irina Gartcueva Elena Petelina,
Natalia Guseva, Diana Medman, Olga Tatarinova,
Elena Trofimova
Standing: Natalia Shitko, Tatiana Kolinichenko,
Nina Kapovskaya, Lubov Mironohina, Svetlana Ivlieva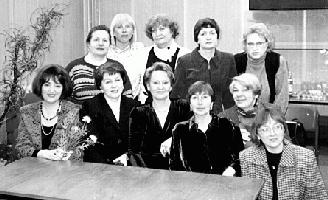 Our history has begun in 1988. In January 11, 1989 we could register the Women's Club "Preobrazhenie" as social organization in one of the USSR Academy of Sciences structures. It was an unprecedented action because our organization had become one of the first registered informal women's organizations on the territory of the former Soviet Union. It happened almost ten years ago and has already become history. A cycle of lectures on the theory of feminism was one of our first beginnings. This cycle was necessary because the situation, in which women found themselves, always depended and continue depending nowdays not so much on economic or political collisions as on cultural fundamentals of the society when women are oppressed not by men but by an existing type of patriarchal culture. And it was necessary to speak about this aloud as well as about the fact that a woman with her problems was brought out of political and historical activity. She exists inside abstract structures presenting masculine point of view.
However, to formulate our own opinion is not easy because the modes of expression, including even language, quite often impede revealing and publishing our interests. The participation in the Russian Assembly "Human Health" held in Nizhnii Novgorod was our next independent step. We organized the session "Woman and Health" there. During the discussion we managed to convince the participants that a feminist formulation of the problem related to women's health is superior than its traditional understanding. As a result we were invited to visit Nizhnii Novgorod again. We often gather together: have a rest out of town, see slides, listen to music, meet with foreign friends, acquaint ourselves with the experience of women's organizations of different orientation. A cycle of lectures within the educational program on culturology problems is delivered on a regular basis in our Club. The lectures are given by Tatiana Klimenkova, Nina Gabrieljan, Maria Mikhailova, Elena Trofimova. Our publications are as follows: - a collection of poetic works (debuts) "The seventeenth Echo".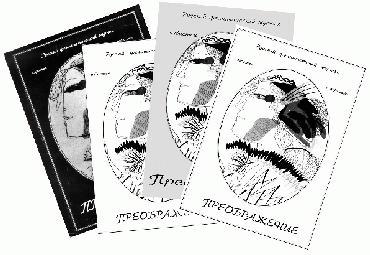 Publishing House "Knizhnaja Palata", Moscow, 1990; - a collection of women's stories " What Does Woman Want...?".
Publishing House "Linor", Moscow, 1993. Since 1993 the Women's Club "Preobrazhenie" has been annually publishing a feminist magazine "Preobrazhenie". It has a licence on publishing activity. The Club participates in many Russian and foreign conferences and seminars on women's problems. Since 1992 the Club is a member of the International Women's Alliance. Our participation in the First and Second Independent Women's Forums as well as in the Forum of NGO-95 held in Beijing was an important event for our Club.
Diana Medman
Natalia Guseva.