SYOSTRI - REGIONAL NON-GOVERNMENTAL ORGANIZATION, INDEPENDENT CHARITY SEXUAL ASSAULT RECOVERY CENTER

Moscow


The Center was reregistered in May 30, 1997 by the Justice Administration of Moscow. Its registration number is 7671.
Adress: mail box 38, Moscow 113035, Russia
Contact persons: Maria Mohova, the director;
tel./fax: (7-095) 901-02-01;
e-mail: syostri@cityline.ru


Martina Vanderbek (the first left)
with the consultants of the Center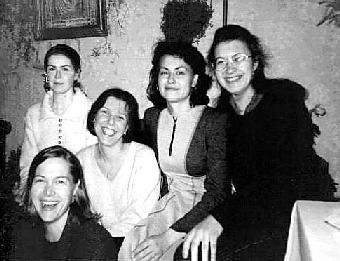 The Syostri Center was formed in 1994.
Activities of the Center are the following:
Providing sexual assault survivors with help and support through hotline service, face-to-face counselling, support groups for women.
Educational programs on preventing sexual violence and self-defence for teenagers and young people; training programs on the issues of work with sexual assault survivors for experts (medical doctors, nurses, psychologicsts); trainings and internships for counselors from crisis centers of Russia and NIS.
Legal Project: legal counselling and advocacy activities in court; educational programs for representatives of law enforcement agencies.
Initiatives on holding specific events and conferences on the issues of violence against women.
Collaboration with mass media focused on changing social attitude to sexual assault survivors; improving their status in soceity; creating legal, psychological, social conditions for rehabilitation of sexual assault survivors.