WOMEN'S ORGANIZATION OF TARUSSA
Tarussa, Kaluzhskaja Oblast

The organization was set up in March 1994 and registered with the Justice Department
of the Kaluzhskaja oblast in April 1995
under registration number 224.
Address: Room 13, 3 Golubitskaja Street, Tarussa-city, 249810, Kaluzhskaja oblast.
Contact person: Tatiana Fedjaeva, Chairwoman of the organization;
telephone: 7 (08435) 2-15-74


Tatiana Fedjaeva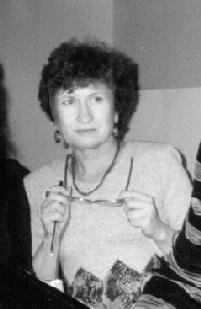 How was our organization established? Our newspaper, which I was publishing, had friends. They wrote articles delineated urgent themes, distributed editions. I was a deputy that time and communicated with many people. So we decided to register ourselves after the example of the Kaluga law protection organization "Lubavy". We were given a registration number. Since that time we have been solving different problems.
How many people are there in our organization? It is difficult to answer. Officially we have twenty two persons. But today we may have 10 persons, tomorrow-50. We do not have a fixed membership in our organization as well as the terms of holding meetings. There are many telephone calls proposing to discuss a problem, to gather together, to congratulate a friend, to help somebody to find a job, etc.
At present, we are dealing with legislative problems. There is a remarkable law pertaining to veterans, which provides different privileges for them and disabled persons too. However, this law did not work in practice because of the bureaucrats' actions. Some veterans tried to protest against these actions, but in vain. And then we decided to prepare references of the following type: "Dear Mrs. or Mr. N! As you are veteran of labour, which is certified by an appropriate document under #... you have got according to the Law on veterans, you have all rights and privileges guaranteed by this Law. Give the reference to the accounts department of your housing office, where they charge on the rent, and pay 50%. Women's organization of Tarussa". We also put the article on the rights of veterans, mothers with many children and other categories of people into the newspaper and inform them about the date of the reception in our organization. We received several hundreds of people! And then lawsuits began to which we were preparing the most desperate and foolhardy persons. And isn't it tremendous, that an ordinary person with the fear of his boss laid in his genetic memory goes to the court to defend his rights?
All cases were won.
We want to live without conflicts and misfortunes. Just with this purpose we run several seminars dedicated to this theme. We invited the members of the Consortium of the CIS-USA NGOs. Two seminars on conflicts were conducted for school teachers. We want our children to be taught by prepared people. Is everything all right in our organization? Certainly not! At present, I was invited to work as editor in our regional newspaper. I have to leave Tarussa very often. But I believe our business, friendly and simply human contacts will be not interrupted. We have done much already and much work is to be done in the future. The experience gained at many seminars dedicated to the Russian and international women's movement is invaluable in truth. It gives forces and energy for future activity. And very helpful is your support, our dear sisters from Moscow and Kaluga, Zhukovsky and Rostov and dozens other cities. Thank you for your warmth, kindness, understanding. We hope we shall be able to restore our Motherland for we know that everything in the world begins from us!
Tatiana Fedjaeva