CENTER FOR THE INTEGRATION OF WOMEN'S STUDIES OF ST.-PETERBURG STATE UNIVERSITY
(TSIZHI)
St-Petersburg

TsIZHI is not registered.
Address: 60 Galernaya Street, St.-Petersburg,190000.
Contact person: Tatiana Gerasimova, senior coordinator of the Center;
telephone: 7 (812) 177-76-40, (812) 311-84-45;
fax: 7 (812) 311-02-51.


Tatiana Gerasimova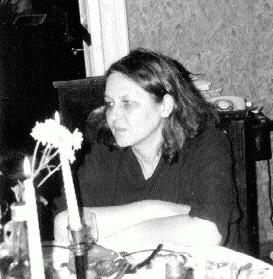 TsIZHI is a successor of the research-and-theory seminar "Woman and Civilization" which since 1996 has been incorporating lecturers and researchers of the St.-Peterburg State University and institutes of the USSR Academy of Sciences. Its main goal is a self-identification of researchers belonging to various fields of knowledge: sociology, psychology, anthropology, ethnography and folklore, the study of literature and linguistics, law and political science dealing with women's problems. Actually, the seminar had been organized earlier. We were not opening something new.
However, we realized that in spite of the diversity of methods, methodologies and different problem fields of knowledge there is something common and very important: a paradigm of each field of knowledge contains women's mystery, which is not realized as the integrity. We hear and know little of feminism. But perestroika came in time. Freedom of word, information, suffrage, right of choice! However, formal rights on labour, education, safety, economic independence in the most unambiguous manner are being transformed into fiction before our eyes. A woman without property, legal status, job becomes a slave of masculinity in the most primitive and brutal forms. Delivering lectures or making separate reports, carrying out researches and running conferences seems simply insufficient now. Increasing discrimination with respect to sex and age, corruption of state power bodies, struggle of people for survival in the atmosphere of immorality give birth to sexless lumpen-monsters.
A competent and energetic self-protection of women is necessary. A system of women's education and "women's" education of men should be developed. It is time not only to think of human rights but to know, realize and be able to use the international and domestic experience gained in their protection. We need to build our own social house. And do this work with confidence and competently. At present, TsIZHI is represented by women and men, students and lecturers, researchers and scientific representatives of bodies.
Tatiana Gerasimova