INTERREGIONAL PUBLIC ASSOCIATION "WOMEN'S UNITY"

Moscow


Interregional Public Association was registered by the Ministry of Justice of the Russian Federation in May 6, 1995. Its registration number is 2705.
Address: Room 17, 2 Kuusinena Street, Moscow, 123308.
Contact person: Ludmila Kabanova, member of the Council;
telephone: 7 (095) 195-80-93;
fax: 7 (095) 958-54-55.


The members of "Women's Unity"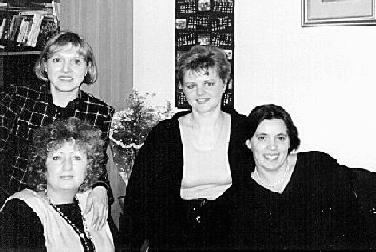 The idea of creating our women's association arose during training and educational half year courses for unemployed and socially unprotected women over 35 with higher education which were organised by the Berlin-based women's NGO East-West Women's Network (OWEN), within framework of an international project between Moscow and Berlin. Their partners were the Senate of Berlin, the Government of Moscow, and the public organization "Conversion and women". Approximately 80 women from Moscow were gathered at the building of Academy of National Economy and studied such subjects as psychology and communication, management, accountantcy, marketing, computing, working with staffs, business English and German, and others.
Their "teachers" were well-educated unemployed women from Germany, that had covered the analogous courses in Berlin.
When we gathered together in October 1994 for the training courses, we were a scattered, haphazard, socially unadapted group of women. We all had higher education in various fields but felt psychologically uncertain in the quickly changing economic situation. Many of us felt no confidence in future; our plans were vague and diffuse; and moreover, we had no adherent, people able to help us go through this difficult experience. Today, by learning from and helping each other open up all kinds of new potentials and talents, we have become a group of women with initiative, a group which can precisely formulate problems, determine what we want, identify aims, seek ways to make our objectives a reality, and attract like-minded women who are also oriented towards achieving positive changes in our society. The idea arose that we should unite into organization that would help women, their children and their families in the difficult transitional period we are currently experiencing.
The main purposes of the women's organization were formulated as:
the protection of women's interests in the new, marketoriented economic conditions;
assistance in adapting to these conditions;
the realisation of mutual aids;
the protection and assertion of the rights and interests of socially unprotected people, leading towards the creation of a better social system prioritizing people.
A second main set of objectives for the association is to develop people's capabilities for independent action and to assist in the new socio-economic context.
The Charter of our association stipulates carrying out work to develop an active political position and support for those democratic leaders who are committed to opening new workplaces, promoting the development of small business, and developing measures aimed at social support of the population.
These are some of the main practical activities of our association:
creation of psychological support groups;
creation of a centre offering assistance to those actively seeking jobs, creation of new jobs within the framework of the commercial project of association;
carrying out education work in the field of social integration, psychology, environmental awareness, culture and art;
assistance in the creation of a co-ordination and information network linking women's organizations.
The following projects are currently being developed by women of our Council and Association and are at different stage of implementation:
Project providing retraining for women over 35 with higher education together with Committee of employment of the North region of Moscow;
Project of education of jobless women in regions with high unemployment rate in the central Russia;
Social assistance to disabled persons;
"Living art", introducing children to cultural masterpieces;
Elaboration of a program defining status of women of old age, called "Standing on our mother's shoulders;
Maintenance and distribution of women movement data base in Russia.
Although Women's Unity is still a young organisation, we are already co-operating with a number of other women's organizations in Moscow, Russia, Europe and America and are working towards wider contacts.
We are grateful to a wide variety of individuals and organisations for their support and solidarity, including OWEN. We also actively participate in European women's network WIDE (Women in development Europe).
We took part in annual conferences in Brussels '95 "Women and Alternative Economics" and in Bonn '96 "Women and trade", Helsinki' 97. We got from them their publications an took part in them. In August' 95 we received European women from KULU and other organizations in Moscow when they were on their way to Beijing.
After a year of existence most women became employed, our organisation borders of interest extended to include problem of human rights, international co-operation and strengthening civil society in Russia. Organisation activists have passed several trainings in these areas. Our women have designed an educational project for women from central Russian cities - Kaluga, Tula , Ryazan, Vladimir; Our organisation received funding from Eurasia foundation and conducted a three-days seminar in Moscow. Seminar participants were satisfied by the subject, organisation of the seminar and became interested in continuation of the project and unification of organisations.
Our organisation has a lot of plans for the future.

Ludmila Kabanova