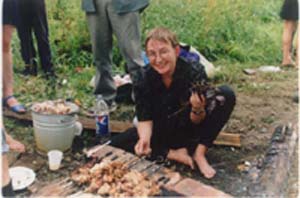 Lipovskaya Olga
Chairwoman of the Petersburg Center for Gender Issues
"The doctrine of feminism is omnipotent because it is true!"
---
About myself ...
Olga Lipovskaya, born 1954. I have two children and one grandson. Secondary education, in addition French language courses. Speak English. In the Soviet years worked at the factory, as guard, charwoman, and secretary.
Since 1985 I am reading, translating and writing about feminism and about the problem of gender relations in the society. In 1987-1991 I published the "samizdat" feminist magazine "Woman's Reading" - 6 issues appeared. This self-made edition published translations of feminist texts, articles on gender issues, women's prose and poetry. From 1988 until 1991 during the time of Perestroika and Glasnost I was activist of the opposition party "Democracy Union", which I left because of the lack of understanding of women's problems among colleague party members. The level of civil and democratic awareness among the party members left much to be desired.
Since October 1992 I have been working in the Petersburg Center for Gender Issues, which we founded together with several activists women. Now all, with whom we have started it, are working in other projects. Until 1996 the Center received financial support from the German feminist Foundation "Frauenanstiftung", which afterward became an integral part of the Heinrich-Boell-Stiftung by the German Party of "Greens" and is still financing our activities.
During the 10 years of feminist activities and working in the 3rd sector I gathered great experience and tiredness as well. The understanding of the task's difficulty replaced former enthusiasm and romantism.
However, all those years were not useless: I visited many countries on different continents, took part in numerous international conferences, saw the world and realized the great scale of the international women's movement.
I published a number of surveys and translations about feminism, about women in Russia, about gender analysis and problems. In spite of the age and some tiredness I still believe that we are doing the right thing and that the generation of children - son and daughter - will understand each other easier, that women sooner or later will achieve power, money and equality.