RUSSIA: DOMESTIC VIOLENCE - VIOLENCE IN SOCIETY.
(Supported by UNFPA within the frame of the UNIFEM Regional Public Awareness Campaign for Women's Rights to a Life Free of Violence).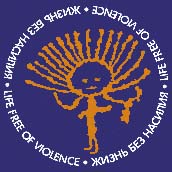 Edited by
Tatiana Zabelina,
head of the National research team.
Moscow 2002.
Presented in this book are the results of the "Survey on the current status of awareness of the general population on domestic violence and sexual harassment in work place and its performance via public means" which was conducted in Russia within the frame of the UNIFEM Regional Public Awareness Campaign for Women's Rights to a Life Free of Violence (September 2001 - March 2002). It was supported by UNIFEM and UNFPA.
The purpose of campaign is to increase the level of public awareness to the problem of domestic violence against women and sexual harassment in the workplace and their consequences. It is necessary to observe the following principles of organization of activities:
To point out an element of public condemnation of domestic violence and sexual harassment on workplace.
To stress the social importance of the given problem.
To use slogans containing public standards. For example, "Violence in the family is abnormal".
To emphasize the aspect of personal participation and personal responsibilities of everyone in the elimination of violence.
For the first time research of such scale and with such a statement of objectives was organized in the territory of Russia. It has provided the opportunity to collect unique information on the problem of violence against women. On the basis of the collected material it is possible to make a comparative analysis of an existing problem in the 10 regions of the country. The quantitative methods of information collection (public opinion poll through standardized methodical documents) were supplemented by qualitative analysis (through free interviewing focus-groups participants and content-analysis of materials published in regional papers). As a result of such an integrative approach it was possible to find out not only quantitative parameters of the prevalence of the violence problem, but also to find an explanation of the existing situation.
Within the framework of sociological research the following work was completed:
a survey of the population using a questionnaire in 10 regions Russia (1528 persons were asked);
non-standardized group interviewing through focus-groups in 3 regions;
content-analysis of published materials on the problem of violence against women in 4 newspapers. Two of the chosen newspapers were the most popular regional ones and the 2 others were typical local newspapers for the period from September 1, 2000 till September 1, 2001 (one year prior to the beginning of Regional Public Awareness Campaign).
An analytical report was prepared, generalizing the results of the 3 kinds of research activities.
---